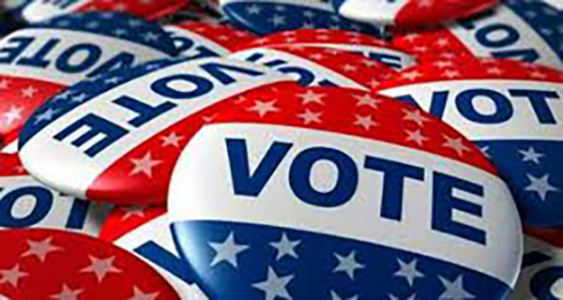 PLEASE NOTE: Early voting, which has previously been held at the former Town Hall (now the Tyrone Museum) will now take place at the former Police Department Office at 945 Senoia Road (View the location on a map.).
Similarly, all Tyrone voters who are assigned to Rareover Precinct #9 (formerly held at the Tyrone Library) for election day voting should note that the former Police Department Office (945 Senoia Road) has officially been designated as your new polling place. 
Affected voters (those assigned to Precinct #9) should receive notice of this change from the Fayette County Board of Elections via postal mail.
Early Voting for the 2021 General Municipal Election:
October 12 – 15, 2021 from 9am to 5pm;
October 16, 2021 (Saturday Voting) from 9am to 5pm;
October 18 – 22, 2021 from 9am to 5pm;
October 23, 2021 (Saturday Voting) from 9am to 5pm);
October 25 – 29, 2021 from 9am to 5pm.
Voter Registration:
Fayette County Elections Office
Stonewall Administrative Complex
140 Stonewall Avenue West, Suite 208
Fayetteville, GA 30214
Telephone: 770.305.5408
Fax Number: 770.305.5449
https://fayettecountyga.gov/elections/
Upcoming Elections:
The Town will hold a General Election on November 2, 2021, for Council Posts 3 and 4.  Voter Registration for this election shall close at 5:00 pm on the 4th day of October 2021.
Running for Office:
Citizens wishing to run for office must be at least 21 years of age and have been a resident of the Town for at least 12 months immediately prior to the election.  Qualifying will open at 8:30 am on the 16th day of August 2021, and shall close at 4:30 pm on the 20th day of August 2021 (Monday through Friday, 8:30 am- 4:30 pm).  The cost to qualify for Council is two hundred and sixteen dollars ($216.00). See Section 2.102 of the Town Charter for more details.
Voting Locations:
Precinct 9, Rareover (Early Voting and Election Day):
Tyrone Recreation Offices (Formerly the Tyrone Police Department)
945 Senoia Road
Tyrone, GA 30290
Please contact our Town Clerk, Dee Baker, at 770-487-4038 ext. 107 or dbaker@tyrone.org for more information about voting in Tyrone.