The Fayette County Board of Commissioners passed a resolution in December 2022 to call for the imposition of a new Special Purpose Local Option Sales Tax in 2023. If approved by the voters in March 2023, a 1¢ sales tax will be collected over a six-year period resulting in estimated revenues of $210,000,000 county-wide. The Town of Tyrone would receive an estimated $13,492,500 of that funding for capital projects. 

The following table outlines Tyrone's project categories and fund allocations for the 2023 SPLOST. 

2023 SPLOST Project Categories

The Town's full project manual is available for download below.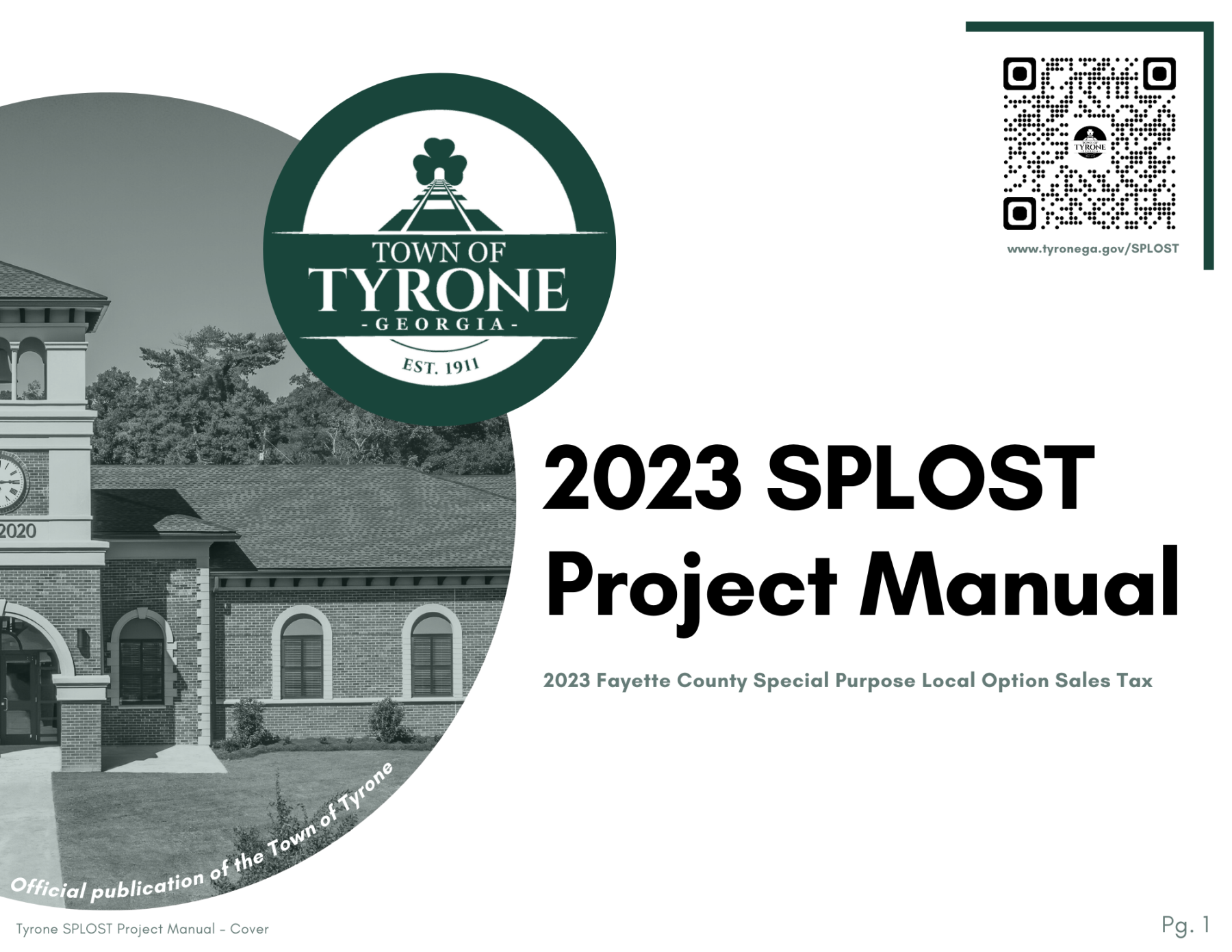 Voting for the 2023 SPLOST will take place as follows:
Early voting:
February 27 - March 3 from 9am to 5pm
March 6 - March 10 from 9am to 5pm
March 13 - March 17 from 9am to 5pm
Saturday Voting:
March 4 from 9am to 5pm
March 11 from 9am to 5pm
Election Day:
March 21, 2023 from 7am to 7pm
EARLY VOTING is available at the former Police offices located at 945 Senoia Road. Election day voting will take place at your regular precinct, which may also be the former Police offices.
From the Fayette County Website:
The acronym SPLOST stands for "Special Purpose Local Option Sales Tax" and is a specific tax rate for a specific period of time. Counties and cities can use SPLOST funds for specific capital projects.
If the 2023 SPLOST is approved by voters, the sales tax in Fayette County will remain at 7¢ given that the existing SPLOST will end in 2023.
In Georgia, the State receives 4¢ of the sales taxes collected in every county. A 1¢ Local Option Sales Tax (LOST) is shared among a County and any of its municipalities based on an agreed-upon formula. LOST funds can be used by local governments as part of their General Fund operating expenses. Fayette County also has a 1¢, voter-approved E-SPLOST, which is invested solely for use by the Board of Education and a voter-approved SPLOST which will end in 2023. This comprises Fayette County's current 7¢ Local Option Sales Tax.
Of the counties immediately surrounding Fayette County, Clayton and DeKalb Counties collect an 8¢ sales tax whereas Coweta, Spalding, Henry, and Pike Counties all collect 7¢. This is important because the extra penny of sales taxes fund only projects in the counties in which they are collected, no matter where the buyer paying the tax lives.
If approved by the voters, the 2023 SPLOST will be invested in capital projects throughout the County in the areas of facilities, public safety, parks, recreation, and human services, stormwater infrastructure, and transportation projects. The projects will be defined in an intergovernmental agreement that includes the specific list of projects for each municipality and the County.
The County and its municipalities are currently working on projects funded by the 2017 SPLOST, which ends in July 2023.
Tyrone was projected to receive $9,102,463.00 under the 2017 SPLOST. As of December 31, 2022, The Town has received $10,022,721.00. A total of $4,902,671.00 has been spent on the projects approved in the 2017 SPLOST to date.
A full update on the status of the 2017 SPLOST projects is available on our 2017 SPLOST page.