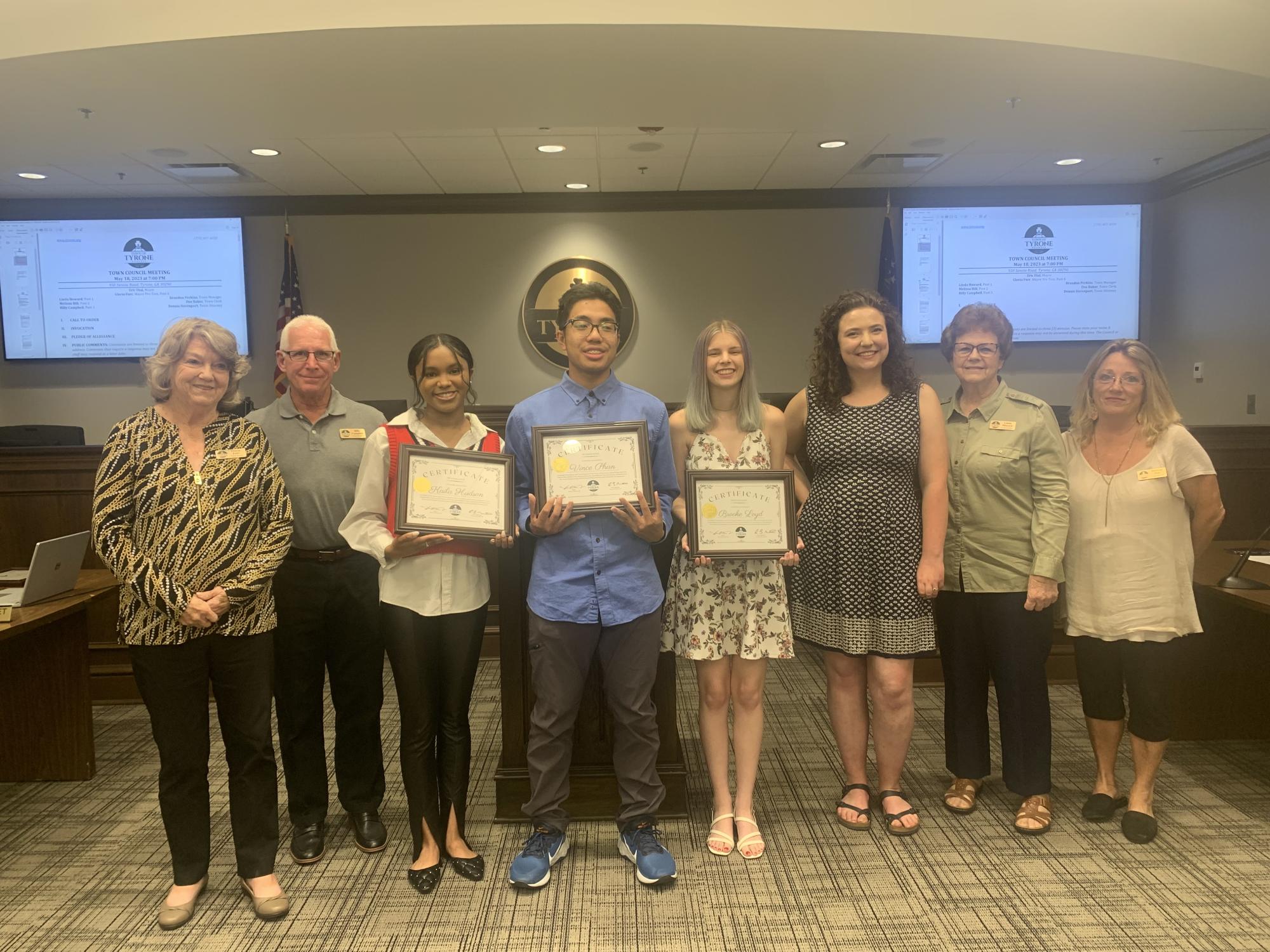 Tyrone, GA - During the council meeting held on May 18th, the Town of Tyrone recognized the outstanding contributions of four interns from Sandy Creek High School (SCHS) who participated in the Fayette County Board of Education (FCBOE) Work-Based Learning (WBL) program at Town Hall. These talented individuals left a lasting impact in various departments, including Engineering, Environmental Management, Community Development, Library Services, and Parks & Recreation.
The FCBOE Work-Based Learning program aims to provide students with real-world experiences and opportunities to apply their classroom knowledge, preparing them for the professional world. Through internships with different town departments, these students acquired valuable skills and gained insights into their chosen career paths.
Among the interns acknowledged were Brooke Loyd and Vince Phan, who showcased their exceptional skills while working on Engineering and Environmental Management projects. Both demonstrated a keen eye for detail and actively contributed to ongoing projects, providing valuable data on the town's infrastructure using Geographic Information Systems (GIS) programs. Their passion for environmental management was evident as they worked closely with the Town's Environmental Management Specialist, consolidating data related to stormwater management facilities.
The Community Development Department welcomed Kaila Hudson, who proved to be an exceptional asset. Her strong interpersonal skills and attention to detail made her an integral part of various projects. Kaila learned CAD programs to assist in creating renderings for future town projects, and her graphic design skills were put to use in reformatting the Comprehensive Plan into a shorter, more engaging story map for citizens to experience.
The contributions of Ms. Ryan Lewis greatly benefited the Library and Parks & Recreation departments. As an intern, Ryan exhibited tremendous enthusiasm in promoting community engagement through library and recreation programs. She played a key role in developing graphic design content for residents of all ages, enhancing the experience of these programs.
The Town of Tyrone, in partnership with Sandy Creek High School and the FCBOE Work-Based Learning program, will continue to offer internship opportunities for students, allowing them to gain valuable experience. The town is grateful for the tangible difference these interns have made and recognizes the importance of investing in the development of young talent, thereby fostering a prosperous future for Tyrone.
As the council meeting concluded, the interns received applause for their exceptional dedication and contributions. Their achievements serve as a testament to the significance of nurturing young talent and cultivating a bright future for Tyrone.