Introduction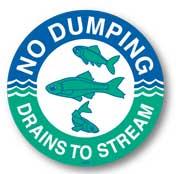 In Tyrone, as in most cities and towns, you'll find storm drains and catch basins along our streets and in many yards. What most people don't realize is that these drains lead directly to our rivers and streams, not to a wastewater treatment plant.
Consequently, pollutants such as motor oil, fertilizers, yard waste and litter find their way into our rivers, streams and waterways via these drains, often carried by rain that becomes stormwater runoff. Polluted streams impact our water resources as well as our downstream neighbors' water resources.
The Labeling Program
Storm drain labeling is a coordinated effort to paint educational messages on storm drains (catch basins and yard inlets) that lead directly to nearby creeks, streams, and lakes. In Tyrone, for example, yard inlets and catch basins empty into either Line Creek or Flat Creek. Downstream these creeks supply drinking water to Tyrone and Fayette County. The labeling program uses volunteers to place labels onto the vertical face of residential storm drain covers. The purpose is to alert people that what flows into storm drains affects water supplies.
Getting Involved
Volunteers should be at least 10 years of age, or accompanied by an adult if younger. Individuals may want to label drains in their neighborhood. School, HOA groups, and other community organizations may want to take on a larger area. Labeling takes a few minutes per drain.
The Town provides all supplies, and maps of drains for your labeling project.
For any additional comments or questions regarding volunteering to label storm drains please contact the Town's Environmental Planning Technician, Brad Konwick, at (770) 487-4038 ext. 103 or bkonwick@tyrone.org.